*News
–

No any bikes available on October 7, 8, November 3, 4.


–No e-bikes available on October 6 to 10, 14, 15, 22,23.
-The booking is accepted from 3 months before the renting day.
Welcome to Onomichi where is the starting point of Shimanami Kaido!
If you would like to go cycling Shimanami Kaido where is well known as the one of the world's greatest cycling routes, with road type bicycle inexpensively, it's available here.
We only have few rent bicycles for each size, so we highly recommend making booking in advance, otherwise the bicycles will be easy taken especially in weekend and best season for cycling.(from Apr to Nov)
To bring your own bicycle and enjoy cycling on Shimanami Kaido with it, also gives you wonderful memories.
If you have some trouble with your bike and need some help in English in Onomichi, ask us. We may be able to help you with rudimentary English as terrible as you may think you should learn Japanese.
Attention! You can NOT drop off our bicycles in Imabari. Please return to the same place you rent in Onomichi
If you would really like to go one-way cycling on Shimanami-kaido, we recommend you to rent from other places which have bikes you can drop them off in Imabari, or use WAKKA's bike-return service.
Rented bicycles
The rent bicycles we have are only aluminum road bikes and e-Bikes.
Road bicycles are 2*8 or 2*9 speeds, and basically suitable for beginner riders.
Suitable for 150 to 185cm tall.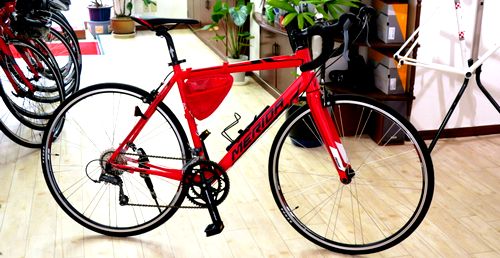 e-Bikes are 1*9 or 1*10 speeds flat handle bar bikes.
The assist range is about 70 to 100km.(depends on assist mode, a load, temperature, and many factors)
Suitable for 155 to 180cm tall.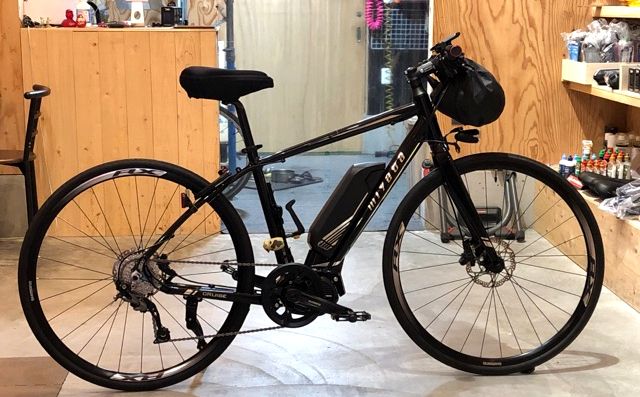 Rent charge
Road bike
| | |
| --- | --- |
| Rent term | Rent charge |
| 1 day (8:00~17:00) | 3850Yen |
| 2 days | 6600Yen |
| More | + 3300Yen per day |
e-Bike
| | |
| --- | --- |
| Rent term | Rent charge |
| 1 day (8:00~17:00) | 6600Yen |
| 2 days | 11000Yen |
| More | + 5500Yen per day |
*A battery charger is including for more than 2 days.
Option
| | |
| --- | --- |
| SPD / SPD SL pedals *only for experienced riders. | 550Yen per rent |
| A bike Trailer for 2 kids. | 3300Yen per day |
*All charge is including tax(10%)
Available Rented goods
A Helmet, a wire lock, a head light, and an inner tube replacing kit(a spare tube, tire levers) are free rent.
Shimano SPD and SPD SL pedals. 550Yen per rent.
(To replace pedals and saddle is also available for free if you bring your own.)
A bike trailer, Burler "Bee" is also available with 3300Yen per day.
The riding capacity of the trailer is 2 children, and maximum load is 45kg.
A booking in advance is required, and recommended for experienced riders.
Return time
Return time is 17:00. We have to impose penalty charges if you are late the time.
Important notes
-Please obey Japan's safety rules.(Please refer this safety guidelines(PDF) in advance)
-Any insurance is not including in a rent charge. Please insure by yourself if you need.
-There is no restroom in our shop. There is a changing room.
-We don't lend our bicycles in rainy day.
Your booking is automatically canceled if it rains, so please book the other shop's bikes if you intend to go cycling in spite of the rain. (This policy does not apply to the booking more than 3 days)
-Wednesday and Thursday are our shop holidays.
FAQ
Please read FAQ before making a booking.
How to make a booking
Please be sure to read the important notes and FAQ above, then send request a booking through the contact form below with necessary information.
The necessary information is
-Booking or just asking availability
–pick up date and the length of use
–every rider's height (Please do not write like "3 people between 170 to 180")
-Aluminum road bike or e-bike(electric assist)
-The estimated time of arrival if you know (We open at 8am)
-other demands if you have (example: 175cm person needs SPD pedals)
*We are sorry, but we do not reply to your request without all of the necessary information above.
*A cancellation fee of 50% will arise if you don't let us know it until three days before.
*There is no cancel penalty if you cancel due to the weather reason.
*We may not be able to check your booking and inquiry on our shop holidays, Wednesday and Thursday.
*Please try to send with a different E-mail address again if you will not receive any our reply which will be sent automatically within few minutes after you sent. (Our reply is somehow blocked by web.de & gmx mail)
Attention! We need to know every rider's accurate height even if you would like to just ask the availability.

*You also can make a booking by e-mail  with above necessary info, if some error occurred on the contact form.
rent@2shimanami.com
Shop location
1-10-1 Tsuchido Onomichi city Hiroshima pref
It's a 4 minutes walk from Onomichi station if you aren't stuck at a red light.

About Shimanami Kaido
Total distance of Shimanami kaido(way) between Onomichi and Imabari, the other end is nearly 80km, and total elevation is about 500m in one way. There are 6 islands between both cities, and you can enjoy the beautiful scenery of the inland sea along the way. The standard route is well marked with blue line as nobody can lose their way, and there are also other islands and courses beside Shimanami Kaido for various levels of cyclists. There are many places for relaxation on the standard route, so even beginner probably can be completed in a day.
————————————————
THE RED BICYCLES ONOMICHI
Shop hours:8:00~17:30
Shop holiday:Wednesday & Thursday