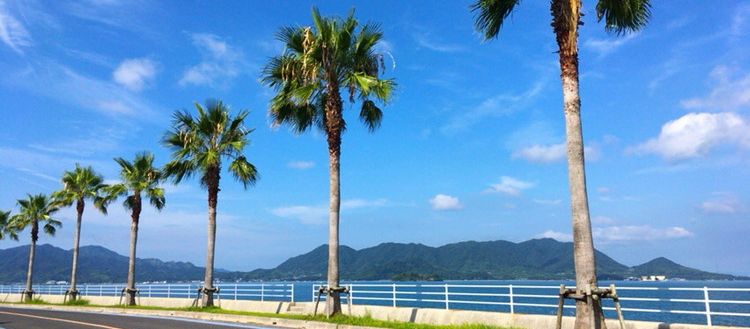 1. Do you have the other bikes except the aluminum road bikes and the e-bikes for rent?
We only have that two type of bikes as you see on our web site, no carbon bikes, no cross bikes, and no city bikes.
2. Can I drop off your bike in Imabari or the other places except Onomichi?
You have to return our bikes to the same shop in Onomichi where you picked up the bikes.
If you would like to finish your cycling in Imabari or the other places, rent from the other shops or book Wakka's bike return service in advance by yourself.
Their last picking up time in Imabari is 16:00.
3. Can I go to Imabari and come back in a day?
We do not say you can not, but we are sure it is very risky if you do not use Wakka's service.
The total distance to Imabari from Onomichi is about 80km with a lot of hills, and no train and bus which you can take with bike available.
You can take a ferry with bike from Imabari port, but the last departure time is 12:40 and you need to ride other 25km to Onomichi after you get off the ferry in Habu port in Innoshima-island.
The ferry's number of capacity for bikes is only several, so you may not be able to take the ferry with bike in the busy season. Moreover no booking the ferry available.
If you miss the ferry, you have to call a cycling taxi (about 23000Yen from Imabari).
Of course you can ride back from Imabari if you are advanced rider, but you have probably no time to have a lunch and take photos.
The return limit time of our bikes is 17:00, and a closing time is 17:30.
So we do not recommend you to do it, we are sure you can enjoy cycling with even half way.
4. Do I need to pay a deposit? Can I use my credit card to pay?
You do not need to pay any deposit, and you can use major cards including Visa and Master to pay the rent fee when you come to pick up a bike.
5. Can I rent a bike on your shop holidays, Wednesday and Thursday?
We are sorry but basically you can not.
Please ask us if you would like to rent a long period and need to pick up or return the bike on our shop holiday, we can sometimes accept it if we have no schedule on the day.
6. Can I leave my luggage at your store during my bike rental?
You can do it for free, but we just leave your luggage in the corner of our shop, not in a storage warehouse which is kept strict watch, so please do not leave any valuables.
7. Do you have rear racks for rent?
We have two type of the racks like the following, and a booking in advance is required to rent.
*Only racks, no bags for rent available.
Simple rack with a bungee cord.  1100 Yen per rent.
A rack For pannier bags. 2200 Yen per rent.
*We have no bag for rent, please bring your own.
8. Hallo I'm Dutch guy, can I…
We are sorry for the inconvenience, but the largest road bikes we have basically fit up to 185cm (6′ 1″) height, and e-bikes are for less than 180cm (5′ 11″) height.
The people who are taller than the height probably can use our bikes, but they may feel uncomfortable.
The tallest guy who rented our bike was over 200cm (6′ 7″), and of course he seemed very uncomfortable, we vinden het jammer.